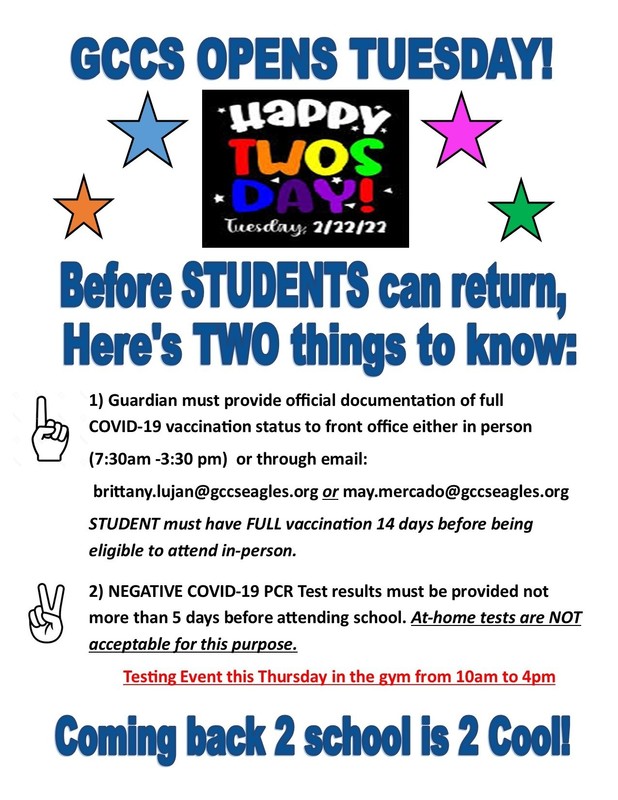 Gila Crossing Families,
We were very appreciative today to have secured final approvals for our plans to open school to in-person learning beginning on Tuesday, February 22. These plans are in full compliance with the latest Executive Order from Governor Lewis, Gila River Community guidelines and Gila Crossing Board policies.
There are two things that families will need to show for students in order to start in-person learning as early as February 22nd.
Students will need to have official documentation of full vaccination status, which can be brought or sent to the main office. Full vaccination status is achieved 14 days after your second shot. This documentation needs to be to the office, if you have not already done so, by 2pm this Friday, February 18th , in order to be eligible to attend on the 22nd. What this means, to determine when your child can start in-person, count forward 14 calendar days after their second dose.
Students must have a negative COVID-19 test result within 5 days of attending in-person school. We are working closely with Gila River Health to obtain these results, but it is critical that you sign a waiver to release this information to us here at GCCS. There will be a big testing event here this Thursday the 17th from 10am to 4pm, and waivers will be available to sign so that we can get this information.
We will only be picking up students on the buses, and admitting students dropped off, who have satisfied both of these requirements, according to the lists for that morning. We will update these lists daily. However, if you feel that you are missing from the current lists, you can bring documentation to the front office.